<! - where invue was -->
Dating services on the web!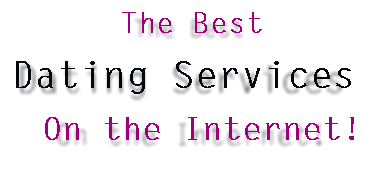 ---
Sign up for your personalized Agent of Love (Internet agent technology meets Cupid. Receive e-mail each time we find someone who meets your description. It's free, too!) One of our premiere features that helps to make us the most fun, user-friendly personal network around! We have photos to make your search even more exciting. We will even scan your photo for free. Finding a great match has never been easier.


---


The One and Only



This highly successful, online dating service allows you to place free personal ads, gets a tremendous amount of traffic and has a high success rate. Considered one of the finest (if not The finest) websites of it's kind on the net. Here is an excerpt from their main page:

"Meeting someone new can be a life-changing experience. Get experienced! It's safe and confidential. Place a free ad without giving out your e-mail address. Browse our ads, and get introduced to the most interesting people on the planet."

If you are looking for a mate, you must visit this site!


---




This site offers an extremely wide variety of different high quality sites. Professionally maintained, a very classy atmosphere and also has mirror sites. Though this one is more of a jump station, I personally find it better laid out and organized then just a simple "link" page. They offer quite a bit of detail as to what each site it represents has to offer. Webmaster responds quickly and courteously to all email inquiries. Certainly worth your time to take a look.


---





Soulmates is an international personals service, where single people can browse a database of profiles placed by thousands of single people from around the world, and potentially find their soulmate. Join Soulmates now for FREE and have access to thier services. You can stay anonymous and you are not required to create your own profile. Create your own picture profile 100% Free Browse & Search through thousands of profiles Match-Finder notifies you of new members It's time to find your Soulmate!


---
---
---

Designed and maintained by Michael Thiessen
Send comments or feedback!
Email Us, Click Here!